Seyval Blanc
Seyval Blanc is generally produced as a dry white wine. It is often touted as having a flavor profile somewhere between Chardonnay and Sauvignon Blanc.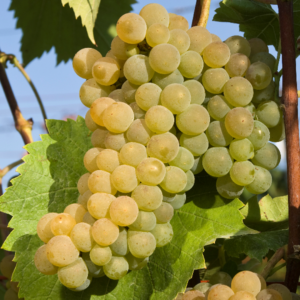 Pronounced: Say-Val
Color: Pale straw, light gold
Aroma:
Tastes Like: Crisp, medium-bodied white wines with hints of grapefruit, green
apple, and melon
Wine Styles: Dry
Pairs With: Baked leeks and smoked salmon with cheese sauce; salmon, avocado and grapefruit salad; charred prawns with herb salad.
More Information Inquiring Minds Want To Know
This hybrid was developed in France in response to the introduction of the American vine pest, phylloxera, to Europe.
It is reportedly the most planted grape cultivar in England. Its name refers to the man that developed this hybrid, Bertille
Seyve.
Seyval Blanc is a popular variety in the eastern U.S., Canada, and the Midwest. This cultivar is fairly resistant to low
temperatures and disease. Grapes ripen mid-season and yield large clusters of medium-sized gold-green berries. The fruit is susceptible to bunch rot.