La Crescent
A popular American cold-hardy grape, with a fruit-forward flavor of apricots and stone fruits. Some say it's reminiscent of the cereal with a toucan on the label. The fruit has high acidity, and is used to make our off-dry varietal wine La Crescent and our sweet wine Vacation. Look for a late-harvest wine in 2020.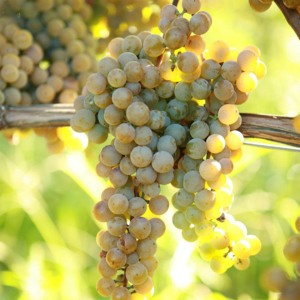 Pronounced: Lah-Cress-Ant
Color: Moderate to deep gold
Aroma: Stone Fruits, Apricot, Floral
Tastes Like:
Wine Styles: Dry, Semi-Sweet, Sweet
Pairs with:
More Information Inquiring Minds Want To Know
Origin: A Cross between St. Pepin and ES 6-8-25, both selections from the breeding program of Elmer Swenson. It has a complex lineage in which the French hybrid 'Seyval Blanc' and V. Vinifera 'Muscat Hamburg' play a role.