Edelweiss
Nebraska's signature white grape, an American cold-hardy hybrid grape which makes a crisp, light bodied white wine with rich green apple, granny smith apple and pear flavors. Miletta Vista Winery as won numerous awards nationwide with our Edelweiss wines, Including: Gold, Double Gold, Best of Class, and Best of Show white wine awards.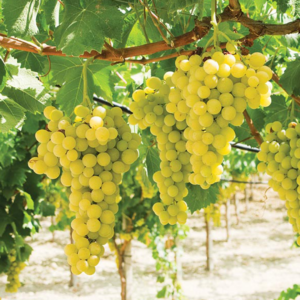 Pronounced: A-Del-Vise
Color: Pale Straw
Aroma: Pineapple when picked – Green Apple in the glass
Tastes Like: Crisp Green Apple, Granny Smith Apples or Pears
Wine Styles: Dry, Semi-Sweet, Sweet, Sparkling
Pairs With:
More Information Inquiring Minds Want To Know
Origin: Osceola, Wisconsin. Developed by Elmer Swenson, P. Pierquet, C. Stushnoff. Released in 1978 by Elmer Swenson and the University of Minnesota.