Contact Us
General Information
Winery – Office or Reservations
308-754-4416
Winery Address
1732 Hwy 281
St. Paul, NE 68873
Customer Service
mail@milettavistawinery.com
Distribution
casey@milettavistawinery.com
Hours
Summer Hours
| | |
| --- | --- |
| 5:00 – 9:00 | Friday |
| 11:30 – 9:00 | Saturday |
| 11:30 – 3:00 | Sunday |
| Closed | Monday – Thursday |
Dinner Served:
5:00 – 8:00 Friday, Saturday
Lunch Served:
11:30 – 2:00. Saturday, Sunday
Holiday Closures
New Years Day
Easter
Thanksgiving Day
Day after Thanksgiving
Christmas Day
Join our mailing list
---
Directions
Miletta Vista is located 4 miles north of St. Paul on Hwy 281.
We are motorcycle and show car friendly.
---
Donations
Donation Policy
Miletta Vista actively supports many charitable organizations and donation-related activities each year. In an effort to manage our contributions in an equitable and efficient manner all requests must be submitted via the Donation Request Form. Phone solicitations will not be accepted.
We are pleased to support worthy causes through our giving policy, although we are not able to honor every request. Because of the overwhelming number of deserving requests, we must limit our donations and possibly alternate years of support to requesting groups. We ask that organizations limit their requests to one (1) per year in order to help the greatest number of organizations.
Miletta Vista is unable to support the following:
Organizations that are not registered charities with 501 (c) (3) tax-exempt status
Lobbying or advocacy groups
Professional associations, including conferences, fundraisers and membership
Private foundations or clubs
Individual participation in events or fundraisers, such as walk-a-thons, scout projects, beauty pageants, etc.
Recreational activities, such as camps, sports leagues, bowling, carnivals, prom and graduation nights
Transportation to and from events, seminars, or for cultural and foreign travel excursions
Fraternal organizations
Organizations asking for monetary donations
Miletta Vista does not ship any wine donations. All wine donations must be picked up at Miletta Vista Winery.
All requests for a donation must be received at least 30 days prior to the date of the event.
Although requests for Miletta Vista's donation may appear to meet guidelines, donation cannot be assumed. Requests will be considered on a case-by-case basis.

Please call 308-754-4416 to have a donation form mailed or faxed to you.

---
Facility Rental
Heritage Room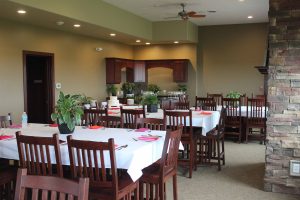 With a view overlooking the river valley the Heritage Room is the perfect size room for your bridal shower, baby shower, and private party needs. This room will accommodate approximately 40-45 people.

Heritage Room Rental: $50/hr. with a two-hour minimum.
Set up Fee: $30.
We also offer specialized food options for your events. You can work with our staff to put together your perfect event.
Weddings
Weddings at Miletta Vista Winery are held on Saturday mornings at 10:00am. This allows you to have a private ceremony with your guests.
Wedding Ceremony: $500
The cost of the ceremony includes 1-½ hours for the ceremony and picture taking.
Set Up Fee – $100
Wedding Reception:

Our Heritage Room is available to rent for wedding receptions. This private room will accommodate approximately 40-45 people. With our kitchen staff we also offer many options for food as well.
Meetings
Miletta Vista Winery hosts many meetings throughout the year. Our Heritage Room is available for rent and offers seating for approximately 40-45 people. Depending on availability our main room offers seating for approximately 60 people.

We offer many additional options for your party, wedding, or meeting needs. For more details and information please contact the winery at (308) 754-4416
---
Lodging
Experience Miletta Vista Winery and the surrounding area with a place to call home for the night.