Miletta Vista – Mick & Loretta's View
Established in 2007, young in winery years. Yet, our passion for QUALITY is strong. That passion is proven, having wines win a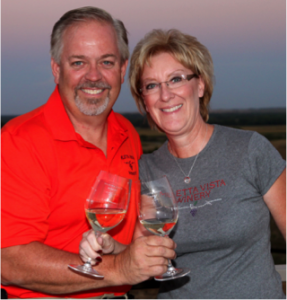 Jefferson Cup, (Brianna) and a US National, Best of Show White Wine Award, at Sonoma, CA, (Brianna); Another Best of Show White Wine Award, at the Florida International, for our Edelweiss wine. Multiple Gold and Double Gold winning wines bless our customers as we strive to make the best in the Midwest.
Our hilltop vineyard and winery location, provides a view that is second to none in Nebraska and one to remember as you travel the Midwest.
Our vines have been purposely selected to thrive on the terroir of this hilltop and provide, customers with wines they can enjoy today and, for the years, to come.
Our white wines are cold fermented to preserve and promote fruit forward flavors, for the discerning and non-discerning palette alike.
At 2 a.m., June 23, 2012 the night sky was illuminated by bellowing flames from back of the winery. Six fire departments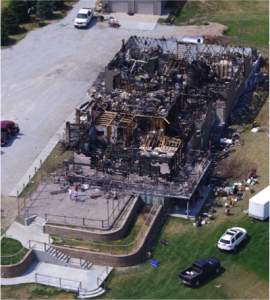 answered a call for help. Volunteer fire fighters battled 40 mph winds into the morning before extinguishing the flames at 6: oo a.m.  The fire had succumbed to the fire fighters' efforts and the 300,000 gallons of water hauled to the site.
What could have been a tragic end, turned into a "New Beginning." The resilience of the owners refused to allow their dream to die, rebuilding 12,000 sf and re-opening in just 345 days.
The restaurant /tasting room was doubled in space. The winery sported a new layout and a 35% increase in floor space, a state-of-the-art fermentation floor and chilling system. The facilities first new vintage in 2013 was rewarded with three (3) double golds for the three (3) entries in Florida February 2014. Then, the Jefferson Cup Invitational competition, awarded it's highest honor to Miletta Vista's 2014 Dry Brianna to become Nebraska's most awarded dry white wine.
In 2016 the owners hired a Chef to offer patrons food that would complement both the wine and the 360º vista that surrounds this hill top experience. A vista winery experience that every wine lover should enjoy.