Stunningly Great Wines – Vintage Nebraska
By Mick McDowell
The Origin of our state name is derived from the Oto Indian word nebrathka, meaning, "flat water", and though most consider Nebraska a fly-over state, flat and boring, nothing is further from the truth. In fact, Nebraska has more rolling hills than flat land. It's just that the Platte river valley is the quickest smoothest way to get from one end of our 500-mile-wide state to the other.
In the hills of Nebraska, a grape revolution has been taking place since the early 1990's. It's very possible that wine consumers will know Nebraska for our "Stunningly Good wines," Yes, I said Nebraska.
It's safe to say that Nebraska winemakers produce the Best Edelweiss Wines in the World. Six (6) different Nebraska winemakers have produced Best Of Show White Wines made from the Edelweiss grape since the year 2000 making Edelweiss the most awarded grape in Nebraska history.
If you haven't heard of Edelweiss, it's likely because the grape is rather new to the wine world. An American Hybrid, bred by a Wisconsin farmer, Elmer Swenson in the 1970's, but boy-howdy does it make some great wine!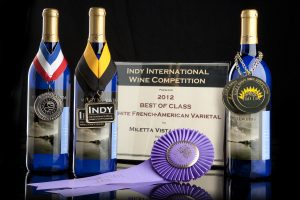 Made mostly as a sweet wine, somewhere between a sweet Riesling and a Moscato, with flavors of green apple or granny smith apples. The wine became the public's favorite, shortly after it was introduced to the Nebraska market. Edelweiss has shown it's versatility too. Some Nebraska winemakers have won double gold with their dry Edelweiss besides the Six Best of Show White wines which were all sweets.
Other grapes blend easily with Edelweiss, such as LaCrosse and Brianna, producing delicious semi-sweet to sweet wines.
It really comes down to which wine style you prefer, then shopping, clicking, buying, chilling and drinking. It's that simple.
Yes, it seems that Nebraska winemakers are quickly mastering the production of Edelweiss wines and are doing quite well with other varieties too. A Nebraska Brianna wine won the U.S.National Competition in Sonoma, CA, 2012. That's right, Nebraska wines have won west coast competitions, beating all comers. Including California wines.
Whether a Brianna winning in Sonoma, CA, a Vignoles winning in Monterrey, CA, or an Edelweiss almost anywhere, Nebraska's wine makers are learning to do it right. In fact, Nebraska winemakers have produced eight (8) Best of Show White wine awards; And Nebraska winemakers have been awarded three (3) Jefferson Cup Awards winners.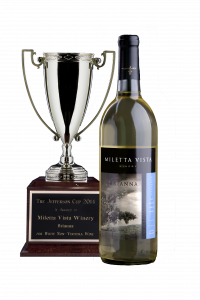 The Jefferson Cup is a Kansas City competition founded by Master of Wines and Master Sommelier, Doug Frost. This invitational Competition, asks wine makers from all over the United States to enter their crafted goodness each November. Results are always anticipated by invitees and if awarded a Jefferson Cup, it really means something. For Nebraska winemakers to receive three (3) of these awards in the last 10 years is rather telling of where this state's wine industry is headed.
Self-identified as the "Beef State," Nebraska's 1.9 million residents are outnumbered 4:1 by cattle. We're not saying that you'll find a cow in everyone's backyard, nor will you always see them roaming the streets of Nebraska's towns and cities, but Nebraska ranchers and cattle feeders are proud to produce 1 out of 7 steaks consumed in the U.S.
With all that beef in Nebraska, wine makers are quickly learning that you serve a good red wine with beef. As a result, they have worked hard over the last 24 years to produce double gold awarded red wines from Chambourcin, Marechel Foch, Marquette and other cold tolerant grapes.
Yes, cold tolerant, because Nebraska winter temperatures can reach -20°F to -30°F and we're not talking wind chill yet. Cold Climate grapes are the predominant varieties grown in a state that requires 75% of the grapes used in Nebraska wines to be Nebraska grown. A unique feature written into the 1985 Nebraska Farm Winery Act that started the industry and which encourages the development of grape acres rather than importing what everyone is drinking. This element makes Nebraska rather unique and assures consumers they are getting wines that are uniquely Nebraska. Perhaps they aren't for everyone, but we're shipping them World Wide.
In 1994, Ed & Holly Swanson opened the first Farm Winery west of Pierce, in northeast Nebraska. That was when the Nebraska Wine Industry began. The Swansons have been leaders in the wine industry for several years and helped nearly everyone involved in the Nebraska wine industry, learn the trade. Although they closed their winery in 2017, Ed remains actively involved with wine consulting, and grape breeding. Ed remains one of the go-to guy's if you have a question that begs a good answer.
Great wine starts with quality fruit and Nebraska grape growers are obviously producing excellent fruit for their wine makers. Records indicate grape production is approaching 1,000 acres in Nebraska. However, many smaller producers are removing their 1-2 acres of vines as they hit retirement age or move off of the acreage.
As a result, most wineries have increased the number of acres under management to compensate for acreage loses. Thus, grape production is consolidating or moving under greater winery management in order to assure sustainable quantities of grapes.
White Varieties
Varieties that have succeeded in Nebraska include French hybrids such as Seyval Blanc and DeChaunac, which have been grown to produce some good vintages, but they are border line for survivability at -10°F. LaCrosse used to be the predominant white grape in Nebraska, producing some great dry whites with citric and white grapefruit tones, but weather conditions including severe hail, and grower retirements have reduced LaCrosse acres significantly.
Brianna is a heavy producing variety and like Edelweiss, it must be picked early to avoid heavy Labrusca flavors from developing.  Harvest Brianna at a pH of 3.2.  The limit according to Swanson who named the grape.  Ed's rule says, "you can always add sugar but can't remove the heavy Labrusca flavors that develop above 3.2 pH". 
Cayuga White is well suited for Nebraska's climate, it produces good crop loads and is easy to make good wines either dry or off-dry. Frontenac Gris is cold tolerant and is beginning to produce some good dry, off-dry and semi-sweet wines. St Pepin and Prairie Star have been grown but haven't emerged as leaders on the Nebraska scene.
Red Varieties
Frontenac has been Nebraska's most planted red grape. Frontenac offers the winter hardiness that is sometimes sought, and produces wines that are fruit forward Black Cherry, and wine styles can be dry to sweet, including rose' and port style.
Marquette is much the same as Frontenac, cold hardy, red currant flavors, but adds a bit more tannin to wines it is used in.
Chambourcin is a desirable red grape, but because it is fairly warmblooded, it's grown mostly in the east and southeast portions of the state so you'll find it's availability rather limited.
Other red wine grapes are grown throughout the state and wine makers have begun mastering the vintages producing Double Gold/Gold quality wine annually including Saint Vincent, Maréchal Foch and the French Hybrid DeChaunac. As mentioned Dechaunac is a French Hybrid with -10°F limits on hardiness and has been prone to trunk splits during extremely cold weather.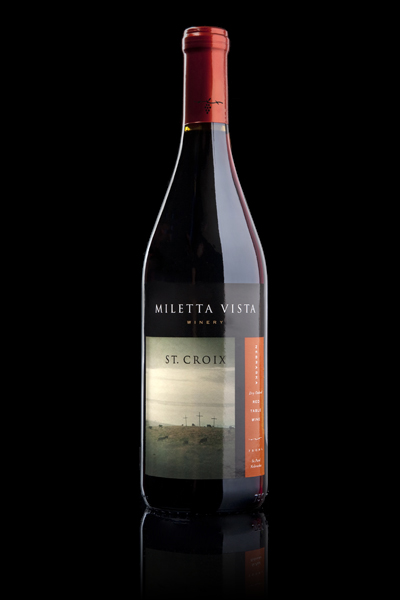 New varieties to look for include a white by the name of Itasca. Capable of producing a prairie grown wine very comparable to a Sauvignon Blanc. A vigorous variety with what appears to have heavy production capabilities, and thicker skins. We're sure to see the first wine from plantings sometime in 2019 or 2020.
New red wines from varieties which have been planted in the state include Petite Pearl, Crimson Pearl, Verona and Crimson Cabernet. All are showing great promise in the barrels of Nebraska winemakers. Each have a heavier tannin structure than previously grown cold climate varieties and something should emerge from this list as a favorite among consumers. Vintages should be available for sampling at select Nebraska wineries in 2018.
Nebraska has quality wineries located throughout the state. Over half are located in the eastern one-third(1/3) of the state. Some are perched high above the plains offering a countryside overview and experience sure to be enjoyed. Others are family owned boutique wineries, each with an enjoyable atmosphere and good wines to enjoy.
Currently you're going to be pressed to find Nebraska wines in many Omaha restaurants, but you will find them in most of the grocery outlets. A prize worth searching out.
Nebraska In General
"Nebraska The Good Life" has long been our slogan and residents truly feel blessed to call Nebraska Home. Nationally, Nebraska ranks 15th in total land area, 38thin population, 43rd population density.
Nebraska isn't just the endless prairie that you travel through to reach California or Oregon. Yes, there are 500 miles between Omaha in the east, to Scottsbluff in the west, but if you get out of the Platte Valley, and off Interstate 80, you'll find some of the most beautiful and scenic country, as well as quaint communities in all of North America.
Nebraska is home to 32 million acres of Sandhill grasslands. The largest such area in the world.
Agriculture is the number one industry, but we are also home to industrial giants like Berkshire Hathaway; Union Pacific rail road headquarters; The worlds largest railyard is located in North Platte; Peter Kiewit Construction, Mutual of Omaha, PayPal, Offutt Air Force Base, Valley Center Pivot Corp., T&L Center Pivots, and many others call Nebraska Home.
Yes, we're passionate about Big Red Football and Women's Volleyball, both hold five (5) National Championships. Yet, if you enjoy baseball, you have to come to Omaha during the month of June as Omaha hosts the NCAA College World Series.
Between games you can tour many of Nebraska's wineries, enjoy some wide-open spaces, taste some more great wines both red and white and interact with the people who make them.
We're some of the friendliest people you'll find. Come enjoy the Good Life and our Stunningly Great Wines.