Petite Pearl
Low acid levels make Petite Pearl ideal for northern red winemaking. It makes a standalone varietal wine and also serves as a valuable blending component. The wine has a dark red garnet color. It shows complexity in aroma and flavor that can be easily shaped by yeast selection and blending. This elegant wine will only improve as more skilled winemakers discover its great potential.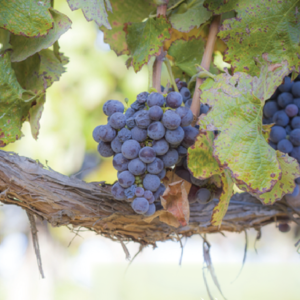 Pronounced: Pet-Teat-Perl
Color: Dark Red Garnet
Aroma: Berries, Spice
Tastes Like: Ripe fruit and soft mid-mouth tannins.
Wine Styles: Dry
Pairs with: Red Meats
More Information Inquiring Minds Want To Know
Tom Plocher, an eminent northern climate viticulturist, grape breeder, and author has developed a new cold hardy red wine grape. Affiliate nurseries will be making Petite Pearl available to grape growers starting in 2010. Tom bred Petite Pearl in 1996 using MN 1094 and ES 4-7-26 as parents. During field trials it was designated as TP 2-1-24. In depth information about hybrid grapes and wine making can be found in the second edition of Northern Winework authored by Tom Plocher and Bob Parke. (northernwinework.com)