Brianna
Brianna grapes can produce a nicely balanced, semi-sweet, white wine with a fruity nose and apricot, peach, pineapple, and honey flavors. Brianna is also planted for white grape juice production.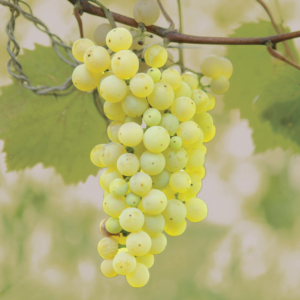 Pronounced: Bree-Ah-Nah
Color: Pale Straw
Aroma: Citrus, White Grape Fruit, Zest, Pear, Apricot, As well as Pleasant Muscat-like Aroma.
Tastes like: Passion Fruit, Star Fruit, Mango
Wine Styles: Dry, Semi-Sweet
Pairs With: Fried Zucchini Flowers, Crumbed Chicken Milanesa, Creamy Curry with Prawn
Food & Wine Article on Brianna
More Information Inquiring Minds Want To Know
This white-wine grape was produced by Elmer Swenson, a pioneering grape breeder who introduced a number of new cultivars that are hardy in the Upper Midwest.
Brianna vines produce medium-sized clusters of grapes that mature early in the season to a greenish gold to gold color. This cultivar has good cold-hardiness to around -25°F. It also shows good vigor, a productive nature, and is generally resistant to the common grape diseases.